Welcome Message
At Westside School, we are relentless in our belief that every young person deserves the very best education, regardless of their background or ability.

With an approach based on high expectations, academic rigor and a focus on addressing individual needs, we seek to help pupils re-discover their love of learning and get themselves back on track.
We are a warm, supportive and inclusive community welcoming pupils of all backgrounds and abilities. Whilst every pupil has their own story of why they have come to us, at Westside every pupil starts with a clean slate and our focus is solely on what they do next. We seek to re-build their confidence and resilience and give them the tools they need to embark on the next chapter of their lives.
We are very proud of what our pupils achieve and how they all go on to further education, training or apprenticeships. As an indication of our success, in 2019 we became the first Alternative Provision to be judged 'Outstanding' under the new Ofsted framework.
If you would like to find out more about our school, please do not hesitate to contact us. We are always happy to welcome visitors to Westside to show them how we are harnessing the power of education to transform the lives of our pupils.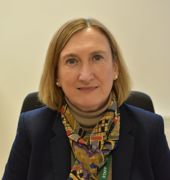 Patricia Hanley
Headteacher
BA (Hons) PGCE NPQH​